Experience summer nature while hiking in Vent.
Majestic Alpine peaks, flower-filled mountain meadows, deep-green forests, and the most stunning sunsets you've ever seen: While hiking in Vent, you can still experience a real, unadulterated summer. A summer that's just like in the good old days, amidst wild nature, just you and the mountains. In Vent, time seems to pass more slowly. Follow almost untouched trails up one of the numerous three-thousand-metre peaks that surround our mountaineering village. Or let the paths lead you up to one of the eight huts that can be reached from our apartments in Vent in two to six hours. Wander past peacefully grazing cows, sheep, and goats. And catch glimpses of the animals of this Alpine kingdom: chamois, ibex, bearded vultures, eagles, and marmots. Hiking in Vent is just how mountaineering should be. Authentic and pure. For a carefree holiday in nature. In Austria. In Ötztal.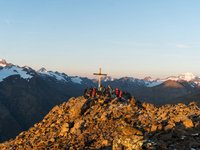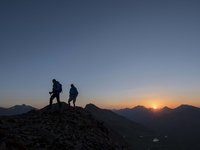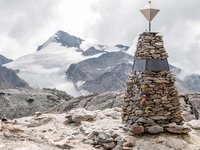 Summer hike Mutsbühel – Ramolalm
approx. 4-5 hours | max. elevation 2,330m
From the "Rund um Vent" (Around Vent) hiking trail, take the gently ascending trail through the dense pine forest above the Gampen lift. As soon as you leave the forest, the trail becomes much steeper and leads up to Mutsbühel. This is an especially good place to see the high-Alpine flora in its variety of bright colours while hiking in Vent, as well as the countless bumblebees, wild bees, and butterflies that visit the beautiful blossoms. The route then continues past rock faces over lush green meadows, where cows graze with their calves. Once you arrive at Ramolalm, you can soak up the wonderful peace and the awe-inspiring mountain panorama before beginning your descent back to Vent.
Wildes Mannle summit tour
approx. 5 hours | max. elevation 3,023m
You can either take the trail marked "Breslauer Hütte" to the Stablein mountain station of the Wildspitz lift or take the lift to get there. Above the mountain station, follow the fork marked "Wildes Mannle" to the right. The route takes you over steep, rocky terrain, some of which is secured, to the summit at 3,023m above sea level. You'll be rewarded with a priceless view across to Wildspitze, which at 3,774m is Tyrol's highest mountain, as well as the other surrounding three-thousand-metre peaks. You then descend via a small col and continue on a secured trail to the tongue of the Rofenkarferner glacier. From there, you descend to the Stablein panoramic restaurant and then return to Vent either on foot or by lift.